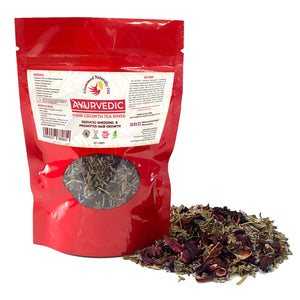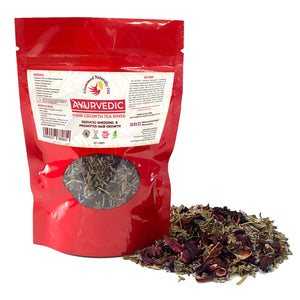 Glammed Naturally Oil
Ayurvedic Hair Growth Tea Rinse
Ayurvedic Tea can be used to shampoo & condition hair.
Ingredients:Organic Hibiscus Flower Petals, Organic Rosemary Leaf Whole, Organic Lavender Flowers Super, Organic Nettle Leaf.
This packet will last 2-3 months. This can be used up to 2 - 4 times.
Direction Of Use:
Directions to use:  Take 2-3 tablespoons place herbs in a glass container, boil water cover the herbs, and steep for 10-20 minutes. Strain the mixture and allow it to cool. Pour over the head after using our biotin shampoo and conditioner. DO NOT RINSE OUT For best results use right after using our shampoo and conditioner. After rinsing add a leave-in conditioner, moisturize with our mango or coco shea butter and seal in with our hair oil.