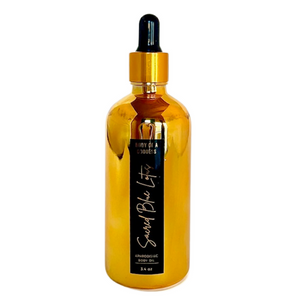 Body of a Goddess
Sacred Blue Lotus Body Oil
Our Sacred Blue Lotus body oils are the pinnacle of luxury and indulgence. Plant-based and infused with our Blue Lotus aphrodisiac, these body oils provide long-lasting hydration for dewy, sensuous skin. The fragrances linger ALL DAY LONG! Our oils are sure to bring out your inner God/dess. Try all fragrances for a luxe pampering experience.


HEALTH BENEFITS:
- Non-toxic. Vegan. Free of parabens, sulfates, and phthalates.

- Our powerful aphrodisiac, Blue Lotus Absolute, eliminates stress, anxiety, bad moods, and negative vibes. It soothes eczema, psoriasis, and dry skin. 

- Blue Lotus Absolute has anti-aging properties, improves uneven skin tone, fades scars, speeds wound healing, and increases circulation.


FRAGRANCE DESCRIPTIONS:
Lavish Velvet (Women): It's warm, dramatic, and addictive. Smells like a black lady that owns a successful business, drives a Mercedes-Benz G Wagon, and has no debt.
Notes: Rich Black Plum Nectar - Musky Vanilla - Tropical Lychee - Deep Sandalwood

Ethereal Essence (Women): It's floral, yet fruity, and divinely feminine. Smells like Heaven! Her beauty is out of this world and her energy is light and peaceful. She's an angel on earth and smells like one too.
Notes: Tropical Passion Flower - Bright Grapefruit - Luscious Raspberry

Elixir of the Gods (Men): Smells like royalty. This fragrance enters the room before you do and instantly commands attention from everyone.
Notes: Exotic Oud - Tonka Amber - Sheer Vanilla - Sicilian Bergamot - Green Leaves - Lavender


INGREDIENTS: Good Vibrations, Moon Power, Sweet Almond Oil, Jojoba Oil, Fragrance, and Blue Lotus Absolute.

3.4 oz


WARNING: Blue Lotus generally does not produce any harmful side effects but there are a few precautions to take. Blue Lotus should not be used while pregnant or breastfeeding. Blue Lotus could lower blood sugar, so caution is advised for those with low blood pressure or taking diabetes medications.