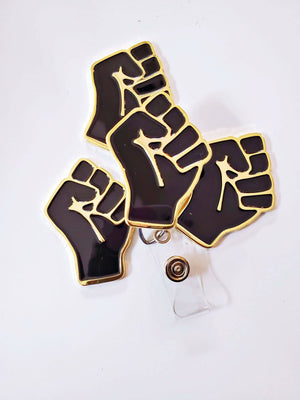 REFLECTIONS BY ZANA LLC
Black Fist Badge Reel
This 3-inch Black Fist for Social Justice, Social Awareness, and Social Change is perfect for a work badge.

Introducing "Justice", a badge reel and powerful symbol of the fight for freedom, equality, inclusion, and civil rights.

This stunning fist ID badge is made in black and gold enamel and is worn to reflect the strength and courage of those who have fought for justice. It is a beautiful reminder of the importance of standing up for what is right and serves as a powerful visual statement of solidarity.

Whether you wear it on your lapel in your pocket or as a belt clip, this badge is a powerful way to show your support for all forms of social justice activism.

Order yours today and join the fight!
This 3-inch Black Fist Badge Reel for Social Justice, Social Awareness, and Social Change are perfect for a work badge.

"A man who stands for nothing will fall for anything." -Malcolm X
BADGES:

- 2-3.5" Hard/Soft Enamel Badge Reels (Enamel)

- Made from high-quality materials to endure everyday use and long shifts.

- Our Enamel work badges are designed to withstand the daily grind without feeling bulky or heavy on you and it's super easy to clean.

- Our holders come with standard OR heavy-duty reels with a 30-day warranty, so you know you are getting a quality product.

- Adhered onto either a slide reel, a standard alligator clip (no swivel), an alligator swivel spring clip or a heavy-duty slide reel

- Alligator clips can clip onto pockets, scrubs, or any other loose articles of clothing that the clips, which are on the back of the reel, can pinch. Swivel clips have a full 360-degree rotation

- Slide reels can clip onto pockets, belts, or collars, which the back of the reel can slide onto

*PLEASE NOTE: Placing multiple IDs and other items may place additional strain or weight on the reel which may contribute to the reel failing to retract. Retractable reels are designed to accommodate 2 oz of pull (approximately 1-2 badges); heavy-duty reels can accommodate up to 4.5 oz. Reflections by Zana is not responsible for common wear and tear damage and will only guarantee hardware for 30 days.

CARE:

- Please handle it with care!

- While the Enamel badges are lightweight and unlikely to be destroyed with regular wear, please remember the backs of the badges (the reels) are fragile and can break if dropped or knocked against hard surfaces.

- To clean, we recommend wiping with a damp cloth or alcohol-based product. Prolonged contact with water or long exposure to heat or sunlight should be avoided as these actions may cause your item to weaken and lead to a defect and breakage.